It's been more than twenty years since the skinny kid with the round glasses, brilliant green eyes, and the odd, lightning-shaped scar burst onto the literary scene–and into the Muggle world–and it would be hard to find anyone anywhere who hasn't heard of Harry Potter. At last count, the series has sold over 500 million copies and has been translated into 80 languages. J.K. Rowling was a single mother in the U.K., living just above poverty-level when she first envisioned Harry's story. She found her way to Edinburgh and The Elephant House coffee shop where Harry's life and adventures began to unfold.
I was well past childhood when I first heard of Harry Potter. I thought it was silly, at first. Why would I want to read a kid's book about a boy who was a wizard? Book four–The Goblet of Fire–was nearing publication when a young friend said "Dawn! You HAVE to read these!" So I gave in and life has never been quite the same! Well, that may be a bit dramatic but not much. The photo below shows the inside of the bathroom in The Elephant House. Like me, fans by the thousands have made the pilgrimage to Edinburgh to see this place where Harry came to be. Many of the messages were very personal. People's lives were changed and they just had to tell someone.
What is it about this place that helped Rowling create stories that have affected so many people? Well, the coffee and snacks are great(!). Then there's the view–out the back room window is Edinburgh castle, in all its medieval glory. (See photo from "The Next Step" post below.) And surrounding it all is Scotland itself, with its rivers and lochs, its highlands and history. It's hard to be in such a place and NOT be inspired. I came away changed after that venture. Will it make me a better writer? That, I don't know, but I want to write stories that touch people's lives, too, stories that make them a little happier after reading them than they were before. I do know I'm a fuller person, a richer one, because of this journey and I think that counts for something, don't you?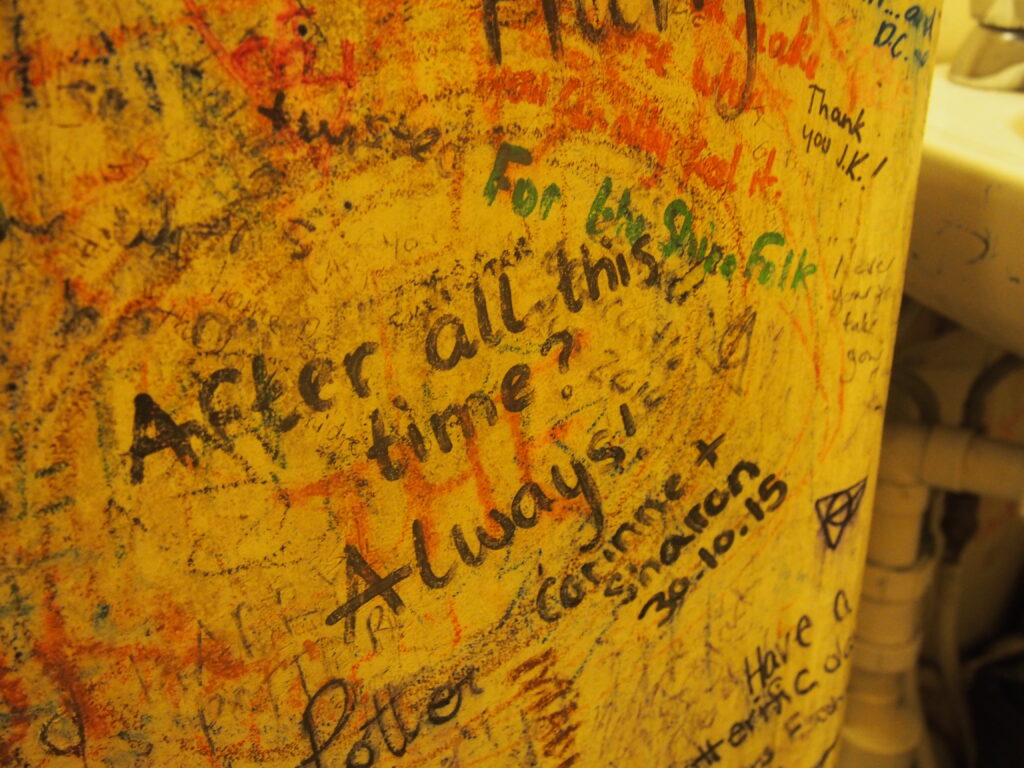 (If you'd like to comment, click Enter when you're finished).