Winner of the Cascade Award for Published Speculative Fiction!
A Kingdom in Chaos. A Merciless Enemy. A Desperate Quest.
At seventeen, Princess Lyric rides a horse better and faster than do any of her father's prized knights.
She knows how to dance at the palace balls, how to flirt with the guards, and how to cajole the king into giving her almost anything.
But she's never learned that non-human, intelligent beings—some of them savage—live in her world.
She doesn't know the gem in her necklace is far more than a family heirloom.
And she doesn't realize the visiting prince who has come to court her wants much more than her hand in marriage.
Overnight, her kingdom is torn from her and her only option is to run.
At 17, Lyric is the uncrowned queen of her land, but someone else sits upon her throne.

There is only one way to reclaim it for her own.
The opal stone Lyric carries places her at the center of an age-old prophecy.
To save her land and fulfill the prophecy, she's taken on a quest that has no guarantee of success.
In doing so, she's found friends where she's least expected to and discovered an unknown, unsuspected strength in herself.
But she's also experienced betrayal, faced horrendous loss, and left behind one who risked everything to save her.
But she can't quit now– the world as she knows it is at stake.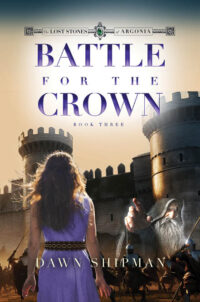 She's only seventeen—too young to die.
But the wizard, the ambitious king, and their marauding Borags must be stopped. Fulfilling the prophecy is the only way to defeat them, and after scouring Argonia for the missing gemstones, Lyric and her companions are just steps away from the final, crucial battle.
If they fail, the world they love will sink into a dark night of destruction.
If they fail, they will almost certainly die.
But Lyric is a king's daughter, and long ago she chose this path. Terrified or not, she will see it to its end, because sometimes, sacrifice is the only way forward.
Dark magic, tragic loss, and tender romance abound in this gripping conclusion to the Lost Stones of Argonia trilogy.

Chicken Soup for the Soul: Christmas Magic will warm readers' hearts and spread the wonder of the holiday season with its tales of love, joy, and awe. A fantastic holiday gift for the young and young at heart.
This follow-up to the surprise hit, Chicken Soup for the Horse Lover's Soul, brings to the page the adoration we have for our horses with inspiring, funny and tender stories.