I SO love Christmas! Have ever since I was a little kid when my two sisters and I spent all Christmas Eve on the verge of total excitement/meltdown! What would Santa bring us? Would there be snow? If we stayed up, would we hear those reindeer paws on our roof? Should we make cookies and set them out for Santa? I was raised in a time when moms and dads didn't feel guilt about letting their kids enjoy a sense of wonder during the holidays. (Perhaps because they knew that life itself would later do everything in its power to drive that wonder away.) And when I got older and figured out that it was pretty much impossible for anyone to make the rounds of all earth's children in one night, flying reindeer or not, I never spent a lot of time being angry at my parents for letting me believe. Memories were made and we had fun!
I was older when I learned why Christmas has lasted a lot longer than America's Santa legends. His name is in the holiday, and it's His birth in that little town of Bethlehem so long ago that started it all. The first, and greatest, Gift of all, came that night, and has never left us. Neither has the joy, the wonder, and the love.
I recently asked my newsletter readers what was their favorite aspects of Christmas–and wow! Did I get some great answers! Angel loves the Christmas lights and "all the sights, sounds, and smells of Christmas!" Sandy agrees: "I think each year is different. This time…it's the lights. Candles in the morning with my coffee. Our house [lights] in the snow!" Pat loves it all, but especially "when our home is filled with the people I love most on the planet!" And Kim sums it up with "the greatest part is our Redeemer's coming as a babe to be our Savior." And to all this, I will simply add "Yes!" I love it all!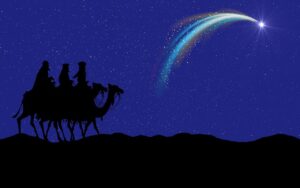 I wish you the most wonderful, Merriest Christmas ever!