In honor of this most amazing of holidays (well, if you're an author, it's most amazing!) let's talk books! Who is YOUR favorite author? Just to take the pressure off, even if it's true(!) do NOT say me! We all have favorites–people who wrote books that changed our lives. Or our outlook on life. Authors who made us laugh when we really needed to, or transported us to another time and place so we could forget–for awhile–the difficulties in our own. We read for any number of reasons. 🙂
If you're like me, choosing one such person is super hard. To make it easier–just choose ONE of your favorites. Share with us in the comments and tell us why you love this author so much. It doesn't have to be long. Just a sentence or two. I'll do a drawing in the next few days and the winner will receive his/her choice of the Kindle version of either of my books. If you've already got my books? Hmm. We'll talk!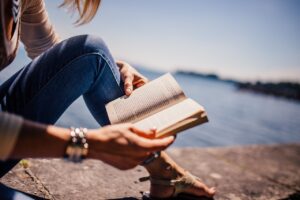 Seriously, I'd love to hear about your favorite authors. Jump right in and let us know!